VirtualBox
What is your operation system?
It usually takes a few minutes for ads to appear on the page but occasionally it can take up to an hour. See our code implementation guide for more details. Done
Is it Windows 10 , 7  or even xp?
is it liunx  debian, redhat,ubuntu,arch linux,fedora ?
or even anything else?
Do you want to try another operation system even as a trial experience ?
if you are afraid of doing this but still interested  so the best solution and the easiest way is to use virtual machines' software.
what is that ??
it is very simple a program which allows you to setup any operation system and gives you some kind of a virtual machine.In other words you will still working on your windows operation system but you have the ability to try any other operation system on this program without affecting your main operation system at all.
There are many software programs who allows us to do that.
As always CybersMatrix.com likes the open-source software.So today we are gonna speak about a very famous software program which is used to create virtual machines .

a very famous open-source software program  . It is official website is https://www.virtualbox.org/
Today I'm gonna just quote some of what they wrote about that beautiful software .[ And later i'm gonna make some tutorials about using it ,It will be very useful for us in many future tutorials here  ].
======================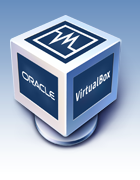 VirtualBox is a powerful x86 and AMD64/Intel64 virtualization product for enterprise as well as home use.
What operation systems you can use on it ?
Presently, VirtualBox runs on Windows, Linux, Macintosh, and Solaris hosts and supports a large number of guest operating systems including but not limited to Windows (NT 4.0, 2000, XP, Server 2003, Vista, Windows 7, Windows 8, Windows 10), DOS/Windows 3.x, Linux (2.4, 2.6, 3.x and 4.x), Solaris and OpenSolaris, OS/2, and OpenBSD.
It is also the only professional solution that is freely available as Open Source Software under the terms of the GNU General Public License (GPL) version 2. See "About VirtualBox" for an introduction.
VirtualBox is a community effort backed by a dedicated company: everyone is encouraged to contribute while Oracle ensures the product always meets professional quality criteria.
Or If you are using Windows just  (This is your download LINK)
I really recommend it for anyone.It is 100% for free.
Follow US